BOLT safely eradicates viruses like COVID-19 with shielded UVC light so you can shine on.
BOLT is the 360° commercial unit that can be used safely while people are in the room, allowing for a continuous and comprehensive germicidal UVC disinfection that kills 99.9% of viruses.
BOLT'S UVGI method is a recommended strategy to reduce exposures to SARS-CoV-2, the virus that causes COVID-19. BOLT uses ultraviolet light to create an eradication zone, destroying viruses, bacteria, and other pathogens at a DNA level, and disabling their ability to multiply and cause disease. Studies show that two UVGI fixtures per room with ceiling fans provide an estimated 80% protection. 
Unlike some other UVGI options, BOLT'S state-of-the-art engineered louver system protects people from direct UV light. This means BOLT provides real time air sanitation and protection for customers, clients, employees, and students while they work, shop, learn, and dine indoors. BOLT'S patent pending design comes from the team's decades of niche experience with plastics. It's the safe unit that safely kills viruses while you shine on. 
BOLT mimics the sunlight and airflow found outdoors—the environment least hospitable to COVID-19. 
BOLT
 produces air changes that introduce clean air, providing continuous, real time air sanitation. UV light has been used for over a century to disinfect and each 
BOLT
system provides approximately
600 square feet of protection
per unit, and issues an approximately
15-foot radius
around each unit.

Uses 36w white UVC Germicidal Light Bulb
8000 hours of use

UL Approved ABS Plastic
Safe and sound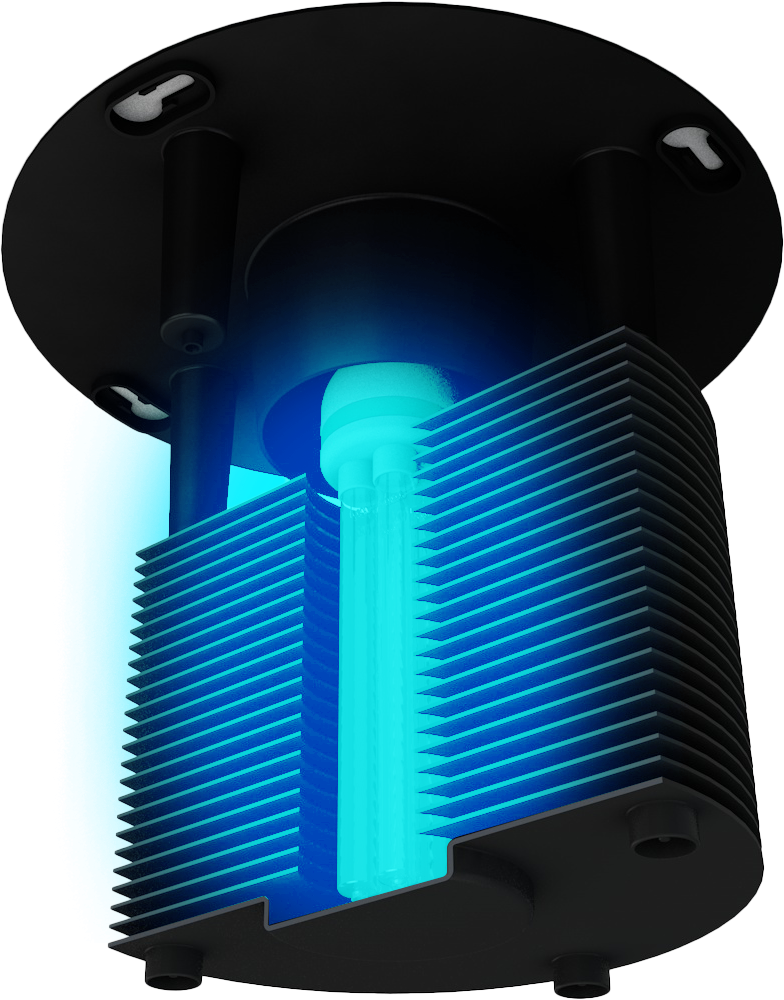 With over 120 patents and decades of experience in specialty plastic manufacturing, our team knows innovation. BOLT kills viruses with UVC rays found in sunlight, utilizing shorter wavelengths to protect the skin from damage. BOLT'S proprietary, smart design deflects the light rays to shield eyes from any harm when in proximity. This means BOLT provides real-time air sanitation for all as they shop, dine, work, and learn indoors. Trust BOLT for the continuous, comprehensive 360° light-based protection that lets you shine on.